I'm Tony Davies. Class AA PGA Professional Golf Coach, offering golf lessons in Chester, Cheshire, covering North Wales and the Wirral. I provide all weather facilities at Fore Golf Chester, using a Trackman launch monitor and video analysis in each lesson.
As a PGA Professional with over 20 years experience in coaching, I provide the best tuition available, focusing all my attention on helping you the pupil get the most from your game. Please feel free to contact me, for more details about me and my coaching.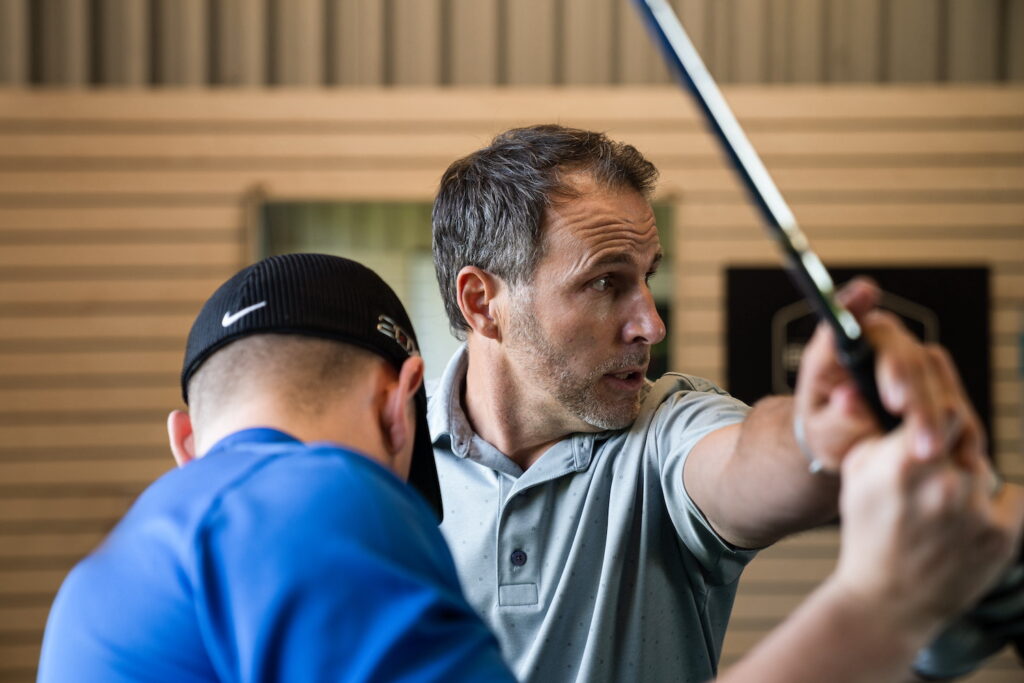 I grew up on the Wirral and first picked up a club aged 10, I then joined a club aged 12 getting my first handicap of 26, age 15 I was playing off 4 and was selected to play for Cheshire boys team as one of their youngest players, I then went onto captain the boys team aged 18, and was then selected to play for the men's team. I joined Heswall golf club as a late teen playing in numerous county and national tournaments winning numerous scratch events on the northern order of merit.
I turned professional in 1995 at Wallasey golf club, playing in pro-ams and north region events, I was fully qualified in 1998, from then I begin my coaching career at Moreton hills golf centre in 1999, in 2002 I became the Head teaching professional helping to develop the academy, my students now extend from new players right through to the county, national and professional players. In 2009 I was appointed as England academy coach for Cheshire golf partnership coaching boys and girls squads, and I'm now Cheshire county coach for under 18 A team and under 14 B team. I have been successful in coaching players to several county championship titles, and currently have players in the men's, boys and girls Cheshire county team and England squad
Here At Fore Golf I can offer undercover and on course practice facilities, lessons can be given on any aspect of the game, whether it's putting on our USGA putting green, chipping/pitching, long game on the driving range, or playing on our 9 hole par 3 course. All lessons include use of a Trackman launch monitor and video analysis software using high speed cameras and training simulation tools.
ALL LESSONS INCLUDE USE OF TRACKMAN LAUNCH MONITOR
Pay as you go and develop your skills.
ALL LESSONS INCLUDE USE OF TRACKMAN LAUNCH MONITOR
Pay as you go and develop your skills.
I've worked with hundreds of individuals and helped improve their skills. Here's what a few have to say.
When I told friends I would like to play golf it was agreed the best way to start would be to take lessons with a PGA golf pro and Tony Davies was recommended, it turned out to be the best advise I could have taken. On day one I was introduced to an 8 iron (golf club) and we started to build a golf swing. In time we moved on to pitching, chipping and the dark arts of putting and I have found it a rewarding and enjoyable experience and would recommend it and Tony to anyone. Tony also helped me with choosing clubs and equipment saving money on items not required or finding cheaper deals. Tony and I are now firm friends with a common interest "my golf"
Tony has been teaching me for the last 12 years. Beginning as an elderly complete novice my own improvement is testament to Tony's teaching! His knowledge of the game is excellent. He quickly spots areas of concern and explains in a way that is easy to understand. Personally I find Tony a pleasure to work with and I look forward to each lesson.
Tony is an exceptional coach, able to get his methods across in a way that is jargon free and easy for the golfer to understand , My son has been coached by Tony since he was 9 (8 years as his coach) and its obvious that Tony gets great pleasure and satisfaction by his improvement and results. It most certainly is not a pay your fee get your lesson then forgotten within Tony. He cares passionately that his students improve as a consequence of his coaching and bottom line if you take on Tony as your coach your game will improve!!! For any parent who wants their children to improve their Golf I would highly recommend that they see Tony. His kids camps are fun and the kids love them.. His one to one coaching is worth every penny. Tony is everything a coach should be , knowledgeable , skilled with a fantastic eye for detail , great communicator and most importantly cares about you being a better golfer and getting the most enjoyment from the game at whatever level you play at.
I started having golf lessons with Tony 4 years ago when I was 5. Tony has helped me develop my golf swing and his lessons are always fun. My game has really come on especially my chipping, putting and bunker shots. Tony sets me challenges and we have great fun with flop shot competitions. I can now beat my dad on the golf course.
Tony has coached my son Dan Heron from the age of 11 when his golf game was very raw. They quickly built up a rapport and dans game has taken great strides forward. He reached a handicap of 2 by the age of 15 and is now a member of the county junior team and plays for Wallasey Golf Club's scratch team. That dans golf swing wins admirers when he plays is testament to the work tony has put in with dan. His relaxed manner gives players confidence. Whenever dan does have problems with his game tony is able to put things right remarkably quickly. I would strongly recommend tony to anyone looking to improve their golf game. His success with dan has convinced me to have some lessons of my own with him!
I have worked with a number of coaches, teaching assistants, golf professionals for over forty years. I haven't met anyone who understands the mechanics of the modern golf swing as well as Tony. His method is clear and simple and easy to understand. He is very patient and knows what you can and can't do. I just wished I had gone to him earlier in my golfing life, I am certain that he would have nipped the rising handicap I suffered in the bud. He uses all the latest teaching aids, knows what drills and exercises are appropriate and that if you work on these then they will provide significant benefits. He is very quick at identifying the key faults in your swing and is very clear in his instruction.
Chairman Prenton Golf Club
Tony started teaching my 11 year old daughter 2 years ago. In that time her handicap has reduced from 21 to 7 and her technique has really improved. During this time she has played for Cheshire junior girls and was recently selected for the North West England development squad. My 9 year old son has been having lessons for around 1 year and he's gone from getting his first handicap to now playing off 41 and really enjoying the game. From the outset I have been really impressed with Tony's ability to diagnose swing issues and create a long term development plan. I really like the way he uses a blend of visual observations, video analysis and TrackMan data before giving clear guidance on what to work on and provide some drills to help make the required changes. He's also got a great manner when working with juniors and my kids have always enjoyed, and looked forward to his lessons.
I first met Tony 5 years ago aged 13. I was new to golf but was selected for Cheshire Junior coaching. With a handicap of 26 but showing promise there was a lot to learn. I continued to use Tony as my coach. His teaching style and knowledge of the skills needed to play golf both technically and mentally have been invaluable. I am now a scratch golfer and am studying at an American college having gained a scholarship on the merit of my golf. I would highly recommend Tony as a coach whatever your ability or your aspirations for golf. Whether you are new to the game and need to learn basic skills or a seasoned player who needs to iron out some glitches. Tony's attention to detail, honesty and never ending patience will allow you to achieve the improvements you are looking for.